So I have to share one of my all time favorite blogs with you:
Seriously, So Blessed
.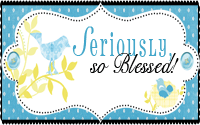 She's Mormon, she's from Utah, she's perfect and has twins. And she's totally fake. The woman behind the genius doesn't blog anymore, but if you haven't read any of it, you can fill some good hours with hilariousness.
When you get annoyed with super perfect looking bloggers, Seriously, So Blessed is totally the cure.
Enjoy.